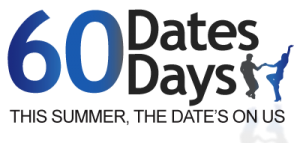 Get out your nice dress shorts and dust off your top hat, because Plume Blue's taking two lucky people on a night on the town.
For the grand prize of our summer promotion 60 Dates in 60 Days, we'll be giving away two tickets to the sold out Jim Gaffigan show at the State Theater (7:30, Oct. 8), a five-course tasting menu with wine pairings at La Belle Vie (nowhere better, trust us) and customized pre-date primping skin cares series at Recapture Skin Care. This is valued at over 500 dollars. And not like two cents over. Like plenty over. It's not like those commercials for companies that claim to be in the "top 13" in their category and you think, "You're number 13, aren't you…"
For those that don't know: Plume Blue is a new dating site just for the Twin Cities. We're all about getting out and enjoying what the Twin Cities has to offer–a lot like this blog. But you don't care about that. Here's how to win the grand prize (p.s. you do not have to register for Plume Blue or even be single to win–it's open to everyone):
Each day, from today through Friday, you may enter the daily giveaway to win things like tickets to the Brave New Workshop, Fitness Training for two, or vouchers for food and drink during Oktoberfest at the Black Forest Inn. Every time you participate in the daily giveaway you earn chances at the grand prize as well! So keep entering and keep sharing!
The Grand Prize is the 60th of the 60 dates, and will be featured on Friday, September 2nd. You may enter that day for one chance, share it on Facebook for two more, and tweet it for an additional chance. Good luck!
Enter to win at www.plumeblue.com/sixty_dates
Learn more about Plume Blue at plumeblue.com
follow @plumeblue on Twitter
Like Plume Blue on Facebook