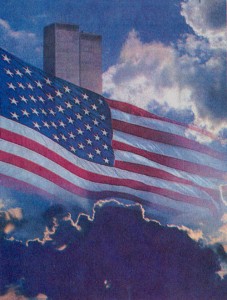 I wasn't there that day. You probably weren't either. But many of us know someone who was in the vicinity, or somewhere in lower Manhattan the day the Towers fell.
Today marks the 10th anniversary of what may be the darkest day in the history of this great country. So we pause and remember. We remember those who lost their lives, those who put themselves at risk to help, and those left to mourn the loss of loved ones.
We recall with gratitude the NYPD, the FDNY, the NY National Guard, and all the first responders.
And we're left with questions.
Why did it happen? How did it happen? How will things change? What happens now? Who's to blame? Will things ever be the same again?
One thing is for sure. Everything definitely feels different in a post-9-11 world. The travel industry has been affected. Intercultural relationships have been altered. Tensions have escalated. On some level, we're still always on the defensive. It just won't go away.
And there are some that will keep reliving that dreadful day over and over again for the rest of their lives.
Read about the heroism of the 9-11 first responders.
Visit a photo gallery of front pages after 9-11.
Donovan Twaddle is the content manager for 365 Twin Cities and this blog, 365 Things To Do In The Twin Cities.