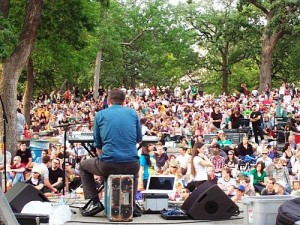 Ah, summer! Gotta love all the cool outdoor things to do! And when they're free? Heck, that's the icing on the cake, am I right?
Today, we're here to talk about an event that goes literally every day all summer long and is free to attend. Minneapolis Music & Movies in The Park brings you their summer concert series, with live music concerts at Lake Harriet in the bandshell, Minnehaha Park, Bryant Square Park, Father Hennepin Bluffs Park, and Nicollet Island Park. Between all five locations, you can catch live music every single day between May 30th and September 5th. Lake Harriet has daily concerts, while Minnehaha Park has 13 or 14 live shows per month. Bryant Square and the others have less active schedules, but there is still an impressive array of genres, performances and local musicians represented.
Whether you're into folk, Bossa Nova, acoustic singer/songwriter type stuff, Brazilian jazz, rock, pop, smooth jazz or concert style band, this series has the goods. And did we mention it's free? And outdoors? And the beautiful park settings are a bonus.
Check the summer schedules for each individual location to see what's playing, or just stop by if you're out for a stroll some evening. All shows begin at 7:30pm unless otherwise noted on the schedule.
For more information about the Music in The Park Summer Concert Series, visit their website.
Like Minneapolis Music and Movies in the Parks on Facebook.
Follow @mplsmusicmovies on Twitter.
Lake Harriet Bandshell
4135 West Lake Harriet Parkway
Minneapolis, MN 55419
(612) 230-6400
Minnehaha Park
4801 South Minnehaha
Minneapolis, Minnesota 55417
(612) 721-6433
Bryant Square Park
3101 Bryant Ave S
Minneapolis, Minnesota 55408
(612) 370-4907
Father Hennepin Bluffs Park
420 Main St. SE
Minneapolis, MN 55414
612) 230-6400
Nicollet Island Park
40 Power Street
Minneapolis, MN 55414
(612) 253-0255