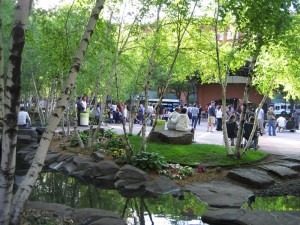 A few days ago, we told you about a free summer concert series in Minneapolis parks in which five different parks participated. Well, that was just Minneapolis. There's another free concert in the park series that takes place in Lowertown St. Paul's Mears Park.
Music in Mears is a series of free concerts that happen each Thursday night from June 9th to August 25, 2011. At least two local bands or music artists are featured each week (three some weeks), and food is provided by some of the fine eateries in the Lowertown locale.
The series kicks off this Thursday, June 9th with a performance by all-girl indie pop/rockers Black Blondie starting at 6pm, followed by local soon-to-be-superstars Rogue Valley, led by Chris Koza. Food and beverages will be provided by Fork In The Road, Chow Hounds, and Black Dog Coffee & Wine Bar.
Future concerts in this series include the likes of Hookers $ Blow, We Became Actors, Pert Near Sandstone, Heiruspecs, Twilight Hours, and Joey Ryan & The Inks, among many others. See the full schedule for the summer to check what's going on and how it may fit into your summer schedule.
All concerts in this series are free, family friendly outdoor events in beautiful Mears Park in Lowertown St. Paul.
For more information, visit www.musicinmears.com.
Like Music in Mears on Facebook.
Mears Park
290 5th St E
St. Paul, MN 55101