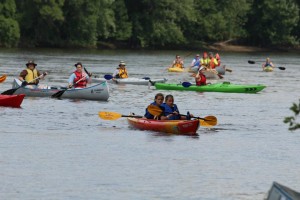 Have a penchant for paddling? Passionate about preserving the Minnesota landscape?
If so, you might consider checking out the Mississippi River Challenge which is a 2-day, 39-mile paddling event to raise funds and awareness for a cleaner, healthier river. Now in it's 9th year, the event benefits Friends of the Mississippi River with all funds raised contributed to protect the Mississippi River and the Twin Cities region. Paddle it! Protect it! in 2012!


The Mississippi River Challenge takes place on Saturday, July 28th and Sunday, July 29th. To participate, each paddler over the age of 18 is required to raise a minimum of $200 (half-day paddlers) or $250 (one and two-day paddlers) in pledges to participate in this event. Paddlers ages 16-18 are asked to raise a minimum of $50 in pledges, but there is no minimum for those 15 and under. To sponsor a stop, a paddler, or a team, contact Marlis Schmidt at mschmidt@fmr.org for more information. 


*Those who register prior to July 1st will receive a $10 discount!


Repeat participants in the Mississippi River Challenge will surely notice a change as the route has changed from the one taken in previous years. Click the link to view the 2012 Mississippi River Challenge course.  


Also new this year will be the option of choosing from three routes – a half day, a one day, and a two day paddle. Regardless of which route you choose, you will enjoy paddling a beautiful stretch of river as well as festivities and music by the Roe Family Singers at Historic Fort Snelling!


Acceptable paddling transportation includes canoes, kayaks, or paddleboards. Other paddlecraft are also welcome, as long as there is no motor.


A shuttle will be provided from your car to the starting point, and your camping gear will be transported for you. All meals, snacks, and beverages are provided, and SAG (safety and gear) support is available at all rest stops along the route. Additional perks include a Mississippi River Challenge t-shirt, a rare opportunity to camp at Historic Fort Snelling, and a Saturday night celebration complete with live music from The Roe Family Singers. 


For more information, please visit www.mississippiriverchallenge.org.
Like the Mississippi River Challenge on Facebook.