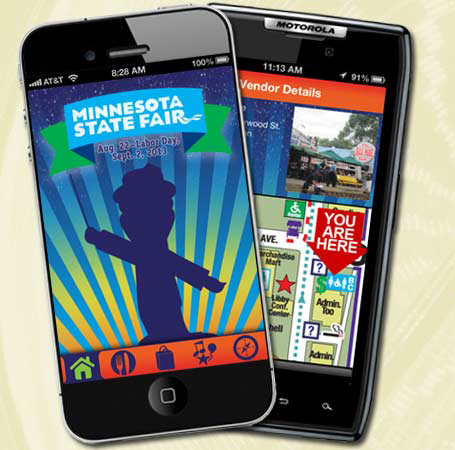 If you've been paying attention to our Facebook page, you've already seen that we're giving away one pair of tickets for each day of the Minnesota State Fair, a total of 12 pairs of tickets. And if you've been to the Great Minnesota Get-Together in the past, you'll know that there's a dizzying array of things to see and do.
Today, we're giving you an overview of the State Fair, and a few tips on how to decide which things deserve more of your time and attention and which deserve a little less. Are you ready? Buckle up and let's get started!
First, if you'are not a winner of our State Fair ticket giveaway, you may be interested in saving some cash. There are advance discount tickets available at participating Cub Foods locations. Just go to the customer service center and pick up state fair tickets for $9 for any age. That saves you a buck off the kids' and seniors' prices, and $3 off adult admission. Blue Ribbon Bargain Books are also available for $4 (regularly $5), and pre-fair ride and game tickets can be had for $10 for a sheet of 20 tickets, saving you up to $5.
If you happen to miss the pre-fair specials, there are several promotional days to grab discounts on tickets. There's Thrifty Thursday discounts, Military Appreciation Day on Tuesday August 27th, Read & Ride Day on Wednesday August 28th, which offers Public Library card holders a discount. Check out all of the promotional days and other discounts on the State Fair's Gate Admission and Fee Schedule page.
Here's something you may or may not know about the Minnesota State Fair: there's an app for that. Yep, just search the iPhone App Store or the Android Market to download the State Fair app and get all the fun of the State Fair in the palm of your hand. The app's most popular features are the Food Finder, Fun Finder, and Merch Search functions to help you locate things to see, do and eat. Check the app (or the website) for new foods offered this year. Try the Grilled Glazed Donut offered by Moe & Joe's, the Chocolate Chili Ice Cream from R&R Ice Cream, the Comet Corn at the Blue Moon Dine-In Theater…or how about the new Breakfast Sausage Corndogs from Hansen's Foods? These are just a few examples, and remember to look for your old favorites as well.
If you're looking for something entertaining to do or see, or are wondering about the rides and contests, try the Fun Finder. This is a search engine that helps you find the things you're looking for. Or even if you're not sure what you're looking for, the Fun Finder can give you a hand.
Don't forget to try the Merch Search, a huge database allowing guests to search for any merchandise sold on the fairgrounds by using keywords or phrases. Who knows? You may even find a State Fair tote to haul your swag home.
The State Fair is committed to offering equal access to all patrons, and offer scooter, wheelchair, stroller, and wagon rentals on site. Check out the State Fair's Accessibility page on their website for more details and don't forget to download their accessibility guide.
Stay tuned to our blog this week for more information of the Great Minnesota Get-Together! Don't forget it opens Thursday August 22nd, so plan ahead to take advantage of pre-fair discounts. For more information on anything about the State Fair, visit www.mnstatefair.org.
Minnesota State Fair
State Fairgrounds
1265 Snelling Ave N
St Paul, MN 55108
(651) 288-4400
http://www.mnstatefair.org/
Like Minnesota State Fair on Facebook.
Follow @mnstatefair on Twitter.
Check out State Fair Images on Instagram and Pinterest.