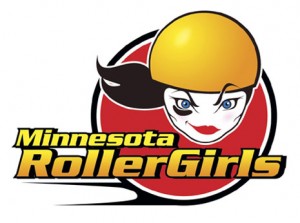 Hey-you, yeah, you … want a black eye? No, no, I'm not picking a fight I'm just letting you know about the Minnesota RollerGirls A Night of Hard Knox event on Saturday December 17th!
Pack up the family and head to Roy Wilkins Auditorium (St. Paul) to watch some classic flat track roller derby!
If you are a little hesitant and new to the derby scene don't fret, all the rules will be explained ahead of time and soon you'll be on the edge of your seat cheering with the best of em'!
There are 4 teams ready to skate-it-out for your enjoyment:
Atomic Bombshells vs. Dagger Dolls
Garda Belts vs. Rockits
Half time show by The Rockford Mules
If you weren't already excited, how about something for free?! Be there early (doors open at 6:30pm) ; the first 200 derby fans will get special limited edition Minnesota RollerGirls t-shirts!!
Ohhh and remember that black eye? For a dollar you can make a pit-stop at the Black eye booth for your very own shiner (kids get em' for free)!!
Details:
Saturday, December 17th
Doors open at 6:30pm (bout starts 7:30)
Roy Wilkins Auditorium (directions)
Tickets and Parking info:
Purchase tickets at the door and get a discount with your student ID or bring a non-perishable food item to Emergency Food Shelf Network and receive $2.oo off (one discount per person valid at the door only).
After Party If this event keeps you thirsty for more swing on over to O'gara's and chat-it-up with your favorite roller girls!
Roy Wilkins Auditorium
175 Kellogg Boulevard West
Saint Paul, MN 55102
(651) 265-4800
http://www.theroy.org/