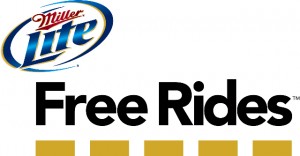 For many, New Year's Eve is an occasion to raise a glass in celebration of new beginnings and of making resolutions for self-improvement. Whether you decide to raise one glass or several, hopefully your resolutions include traveling safely and responsibly. For the past 15 years Miller Lite has sponsored its Free Rides program in the Twin Cities on St. Patrick's Day in an effort to prevent drunk driving by providing a safe transportation alternative. And now Miller Lite Free Rides are returning to the Twin Cities for New Year's Eve!
Miller Lite Free Rides will be available Saturday, December 31st on all bus and light rail routes operated by Metro Transit, Metropolitan Council or Minnesota Valley Transit Authority, as well as the Northstar commuter train, from 6 p.m. until the end of service. For detailed route and schedule information on New Year's Eve, visit the Minneapolis/St.Paul Metro Transit page, call 1-800-FREE-RIDES (1-800-373-3743), text "METRO" to 90464, or visit the Miller Lite Free Ride page.
Only select routes operate after midnight, so be sure to plan ahead! Plan your trip today – call a trip planning expert at 612-373-3333 or use the online Trip Planner. New to taking buses or trains? Learn how to ride.
Miller Lite Free Rides is a community service program made possible through a partnership with Metro Transit, MillerCoors and J.J. Taylor Distributing Company.
Celebrate New Year's Eve responsibly and get a free ride on Metro Transit buses, light rail or Northstar. Have a safe and happy New Year's!