MidModMen+friends is a recently launched retail store featuring vintage furniture and home décor with a decidedly modern vibe. The store caters to the surge of interest in mid century design while staying flexible enough to serve customers with eclectic and modern tastes.
The store opened October 2012 as a 'pop-up shop' with an expected life span of three months. But customer and neighborhood response was so positive — and sustained — that just one month into the retail experiment store partners decided to transition from pop up to permanent.
Owner Neal Kielar describes the store's vibe as one grounded in clean, functional design with plenty of leeway for bold statements through art and found objects, strong color and unexpected combinations. Think "Mad Men" style with a present-day flair.
Kielar and partners Jon Mehus, Mary Warner and Erik Warner scour the region and country for high-quality finds. From credenzas and lounge chairs to bar cabinets and sofas, the store hosts a changing portfolio of furniture for every room. At any given time, customers might find a sleek Danish teak desk, low-slung chairs, dressers with modern sculptural details, or tables with tapered pencil legs.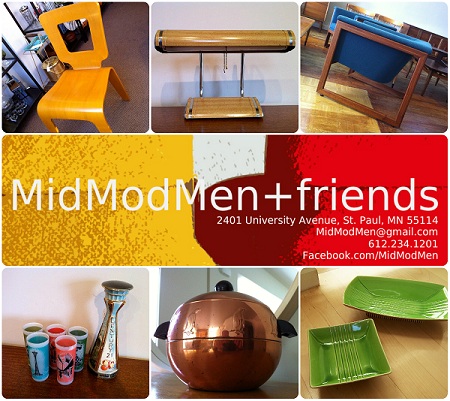 There's also an extensive selection of vintage glassware, bar accessories, dinnerware, and art glass from American, Italian, Finnish and Scandinavian makers. Some of it is ideal for everyday use while some pieces feature intricate gold or silver trim – for special occasions or gifts.
Kielar admits to a personal weakness for vintage music, coffee table books and framed art, so he keeps those categories stocked based on his own tastes. Plus, the store carries the work of local artists, such as Kendell Lindsay (kendellvictoriaphotography.com) whose photography is currently showcased.
One way the partners set the store apart is by ensuring that their merchandise is ready to use. That starts with careful selection for quality and condition when acquiring items, followed by preparation for display. That can involve anything from a good cleaning to a moderate rejuvenation or full-on restoration.
The story of MidModMen+friends is all about revitalization. Not only is the merchandise finding a second life through restoration and resale, the store is part of University Avenue's economic reawakening as the backbone of the new Green Line light rail corridor.
MidModMen+friends is located at 2401 University Avenue, St. Paul, MN 55114, one-half block west of the Raymond Avenue intersection. Hours are Saturday and Sunday from 11 AM to 5 PM. Special store hours, events, inventory postings and other information is available at Facebook.com/MidModMen.
SPECIAL OFFER. Come to the store February 2-3 and 9-10 and mention the code 365TODO to get 25% off any vintage artwork, books or music in stock.
MidModMen+friends
2401 University Avenue
St. Paul, MN 55114
Facebook.com/MidModMen
Phone (612)234-1201
Email: MidModMen@gmail.com
Like MidModMen+friends on Facebook