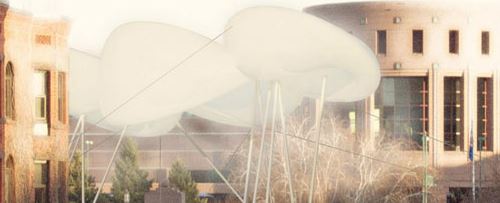 The Minneapolis Convention Center, City of Minneapolis and Meet Minneapolis, Convention & Visitors Association, announce the launch of the Minneapolis Interactive Macro-Mood Installation (MIMMI) on the Plaza of the Minneapolis Convention Center, celebrating with a free day of wellness!
DAY OF WELLNESS ON THE PLAZA: JUNE 14
Beginning at 6 a.m. and running throughout the day Friday, June 14 until 6:30 p.m., the Minneapolis Convention Center and Meet Minneapolis, in collaboration with lululemon, Gorilla Yogis and local yoga/fitness studios, invite the public to stop by the plaza to see MIMMI and take part in a complimentary Day of Wellness. The day includes yoga and a variety of other fitness classes for all ages and levels, studio information, goal setting workshops and more. The public is welcome to enjoy music and talk with 20 local vendors. Dunn Bros. Coffee will be available along with food options from Kelber Catering at the Minneapolis Convention Center.
June 14 schedule of events:
6 – 8 a.m. Sunrise Yoga with Gorilla Yogis www.gorillayogis.com
9:30 – 11 a.m. Kids Yoga with Adventures of Superstretch www.adventuresofsuperstretch.com
Noon – 1 p.m. Yoga with Moksha Yoga Minneapolis www.mokshayogaminneapolis.com
2 – 3:30 p.m. Zumba with Kristi Gess
4 – 5 p.m. Buti with Sparrow Studios www.sparrowmn.com
5:30 – 6:30 p.m. Happy Hour Yoga with Baron Carr