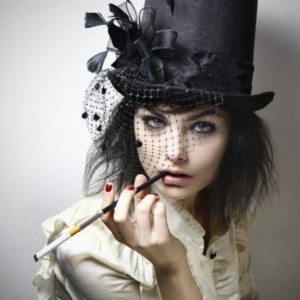 Are you "mad" for fashion? If so, "Down the Rabbit Hole you must go to Design Vertigo's Mad Hatter Tea Party and Fashion Show!" On Saturday, March 3rd, Design Vertigo will be hosting a Mad Hatter Tea Party-style fashion show at the K&J Victorian Room featuring Minneapolis fashion designer Gina Marie Vintage. The Runway Show will begin at 3:00 pm, doors at 2:00 pm.
Enjoy mad, fantasy-inspired fashion while nibbling on tea sandwiches, hors d'oeuvres and sipping a cup of delightful tea. A cash bar will also be available. Parking is free, and don't forget to grab a swag bag filled with goodies.
Shop and discover fashion, products, and local art brought to you by Design Vertigo's online boutique, the Wilde Room.
Tickets: $4 in advance, $7 at the door. Purchase tickets in advance at the BackkenWood Hair Studio or online at the Wilde Room.
"We're all mad here. I'm mad. You're mad."
"How do you know I'm mad?" said Alice.
"You must be," said the Cat, "or you wouldn't have come here."
K&J Victorian Room
2544 7th Avenue E
North St. Paul, MN 55109
www.k-jcatering.com/victorian-room
For inquiries about the event, please contact Amanda Wilde via email at info@DesignVertigo.net or by calling (651) 770-1901.
RSVP the Mad Hatter Tea Party and Fashion Show on the Facebook event page.