Experience the magic of a holiday light sculpture parade without leaving the heated comfort of your car.
IBEW Holiday Lights in the Park, in partnership with King of Kings Lutheran Church in Woodbury has transformed St. Paul's Phalen Park into a fantasy of lights and color.
Take the spectacular drive through over 50 larger-than-life sculptures, including the Enchanted Castle, complete with a handsome prince and beautiful princess, wizard, and fire-breathing dragon.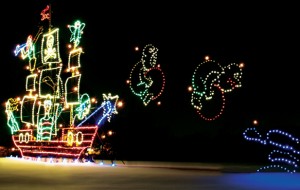 The experience is open from 5:30 to 10:00 pm nightly, including holidays, through January 1. Cost is $10 per vehicle (or $8 for value nights, Sunday through Thursday, except holidays).
Or purchase the Holiday in Lights Vol. 3 CD, filled with beautiful music by local artists, at any Kowalski's location, and receive a pass for FREE admission. The CD features Tim Mahoney, The Blenders, Keri Noble, and other local favorites.
All net proceeds benefit local charities Second Harvest Heartland, Union Gospel Mission, St. Paul Parks Conservancy, and Under Construction.
For more information regarding pricing, hours, volunteer, and sponsorship opportunities, visit lightsinthepark.org.
Like Holiday Lights in The Park on Facebook.
Follow @HolidayLightsMN on Twitter.
Phalen Park
1615 Phalen Drive E
St. Paul, MN