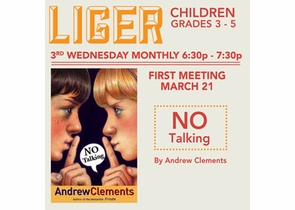 We all know reading is important. And while it may not always been your child's first choice of what to do, it should definitely be encouraged. One way to get kids interested in reading is to allow them to discuss it with their peers. With this in mind, Creative Kidstuff has come up with a fun and interactive way to get children involved and excited about reading.
On Wednesday, March 21st, Creative Kidstuff will host the first meeting of the Liger Book Club! Focusing on children in grades 3-5, this free event will be hosted at the Wayzata and West End locations from 6:30-7:30 p.m. The Liger Book Club will meet to discuss a new book once every month.
This month, the book to be read is No Talking by Andrew Clements. No Talking is set in a modern elementary school, and takes on the classic boy vs. girl theme as the boys challenge the girls to a no-talking contest.
Registration is required for this event. You can register online at www.creativekidstuff.com, or by visiting the West End or Wayzata locations. Check back each month for information on which book to read next!
Like Creative KidStuff on Facebook.
Follow @CreativeKidstuf on Twitter.
Creative Kidstuff – St. Louis Park (Shops at the West End)
1665 West End Blvd
St. Louis Park, MN 55416
952-540-0022
Open M-F 10-8; Sat. 10-8, Sun. 12-6 CST
Creative Kidstuff – Wayzata
1135 E. Wayzata Blvd.
Wayzata, MN 55391
952-249-1707
Open M-F 10-8; Sat. 10-6; Sun. 12-5 CST
Located in the Colonial Square Shopping Center