A group of shop owners in Elk River, Zimmerman and Princeton have joined together to turn their antique stores and boutiques into shopping destinations.
Mapping out a dozen shops along and around Minnesota 169, they've coined the route "Junk this way on 169." The shops sell local art, jewelry and home decor pieces ranging from shabby chic to French country, re-purposed items, furniture, pottery and more. Many items are one of a kind.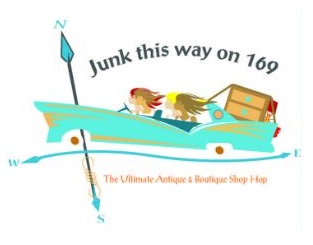 "We got together to get the word out that these shops are here, and they're on your way up north" said Valarie Holm, owner of Gatherings Unlimited in Zimmerman. "Although it certainly can be a day trip out of the cities, we've had groups of women who spend the night in a local hotel, then come shop the route. It's a lot of fun! And if it's a rainy day at the cabin, what's more fun than discovering new treasures! "
Junk this way on 169 is a collaboration of locally owned shops that cater to the creative, eclectic and anyone who craves that unique piece that you can't find in any department store. Each store is very unique, and if you're looking for something in particular, they can direct you to one of the other shops that they know has what you want. By working together this way it helps them all and promotes the group.
"Shoptober" will be a month-long event where participants pick up a shopping passport at any of the 12 stores, get it stamped at each store, and when it's full be entered to win prizes donated by each store. That gives shoppers four full weekends to hit all 12 stores.
365 readers who mention they saw this post can receive 10% off at each store.

For more information:
www.junkthiswayon169.com
Facebook: junkthiswayon169