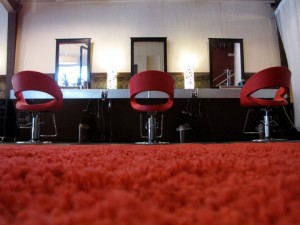 One of Minneapolis's own local salons, Jungle Red, is going to be featured on Bravo Network's "Tabatha Takes Over" on its upcoming season premiere. Now entering its fourth season, the series follows host Tabatha Coffey – co-producer, salon owner, and reality TV star – as she enlightens fellow salon owners on what it takes to run a successful business. Tune in to Bravo on Tuesday, January 10, 2012 at 9 p.m. (CST) to see what sage, brutally honest advice Tabatha had for Jungle Red owner, Suzanne Erickson.
To celebrate the shows fourth season premiere, Jungle Red will be hosting a viewing party on January 10th at Seven Sushi Ultralounge and Skybar in downtown Minneapolis beginning at 7 p.m. Radio personality Miss Shannan Paul of 96.3 NOW will be hosting the event, which will feature a runway show produced by M3 Productions, scheduled to begin at 8:30 p.m. During the festivities Jungle Red will reveal their patent hairstyle, dubbed The Sex Kitten, which they created with the help of Ben Mollin and Tabatha. The televised season premiere of Tabatha Takes Over will air at 9 p.m. with a special introduction by Tabatha Coffey herself!
When queried about what it was like to have an salon business expert and reality star invade her salon, Suzanne Erickson had this to say about the experience: "I saw this as an opportunity of a lifetime to get one-on-one advice from an industry guru and very successful business woman. It was quite an experience and it turned my world upside-down. Tabatha drilled me and my staff, and exposed our issues and weaknesses. Was it worth it? Absolutely! You can't grow without taking an honest look at what's going on. Tabatha also connected me with some invaluable resources that have aided in business development already."
Seven Sushi Ultralounge and Skybar
700 Hennepin Avenue
Minneapolis, MN 55403
Phone: 612-238-7777
Website: www.7mpls.com
Like Seven Sushi Ultralounge and Skybar on Facebook.
Jungle Red
1362 LaSalle Avenue
Minneapolis, MN 55403
Phone: 612-870-0653
Website: www.jungleredsalon.com
Like Jungle Red on Facebook.
Follow @JungleRedSalon on Twitter.