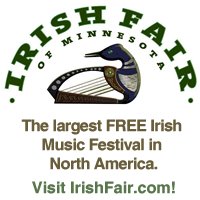 Heralded as the nation's largest free celebration of Irish culture, the Irish Fair of Minnesota is a free, three-day festival being held Friday, August 10th through Sunday, August 12th at beautiful Harriet Island in St. Paul. This unique, annual celebration allows attendees the opportunity to celebrate Irish culture from authentic dishes to traditional Irish activities.
Highlights include a baking contest, a contest for "best legs in a kilt," Irish sports to watch and/or participate in like hurling and Gaelic football, live music, food and beverages, Irish dancing, and more! Check out the Master Schedule to see all of the fun festivities planned for this year's Irish Fair of Minnesota.
In addition to three full days dedicated to all things Irish, there will also be a Kickoff Party which features a performance by the Belfast Cowboys, a Van Morrison Tribute Band. The Belfast Cowboys will be playing Van Morrison's classic album "Moondance" in its entirety as well as previewing a few original songs off their new CD. Catch the Belfast Cowboys playing inside the Pub Tent Thursday, August 9th from 7:00 p.m. to 10 p.m.
For more information on the Irish Fair of Minnesota, including directions and parking information, please visit www.irishfair.com.
Head on out to the Irish Fair of Minnesota and immerse yourself in Irish culture!
Like the Irish Fair of Minnesota on Facebook.
Follow @IrishFairMN on Twitter.
Harriet Island
Mississippi National River and Recreation Area
Saint Paul, MN 55107