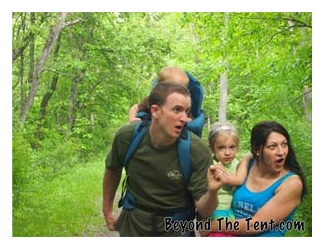 Hello, My name is Ryan Cunningham, 365 Things to Do in the Twin Cities was awesome enough to give me a chance to do a few posts for their blog here and hopefully my family and I can give you some great new ideas for things to do here in the Twin Cities.
First off, I am a married father of 5 kids ranging from 1 to 14 and I live in Robbinsdale. My wife and I actually run 4 different blogs ourselves, these range from camping, to movies, to home brewing and my wife's mom blog. Hopefully I will get a chance to introduce you to all our work over the next few months!
With 5 kids, our family really has no choice but to be active, we are always looking for fun things to do. This summer we started our latest blog called Beyond The Tent where we share our families camping experiences at different camp grounds all around the Twin Cities (and beyond) as wells as camping tips, ideas and recipes.
A couple of weekends ago we did a 4-day trip to William O'Brien State Park located about 45 minutes outside of the Twin Cities. William O'Brien has great camping sites, a beach, fantastic views of the St. Croix and a bunch of hiking trails that span the river, prairie land, forest and wet lands. Our family had a great time camping, but I would make a couple of suggestions regarding family camping. If your kids are too young to spend the day hiking or just lounging at your campground, William O'Brien may not be the best camping spot for your family as there is really little else to entertain young kids. If you would like to read our full write up of William O'Brien, check out our William O'Brien Article on Beyond The Tent.
The next weekend we are staying at Kamp Dels in Waterville, MN. This is going to be a little bit further of a drive, but it is only 1:15 from Minneapolis, so it is an easy drive (even for a family of 7). I'll be doing a full write up for this after the weekend.
Along with sharing different camping grounds and our thoughts on them, I plan on trying to share a lot of other ideas for things to do in the Twin Cities this summer as well. Did you know the Twin Cities have some of the best Disc Golf Courses in the state?
There are so many wonderful and fun things to do in this great city and I am looking forward to sharing as many of them as I can with you.
Thanks again 365 Things to Do in the Twin Cities!
-Ryan