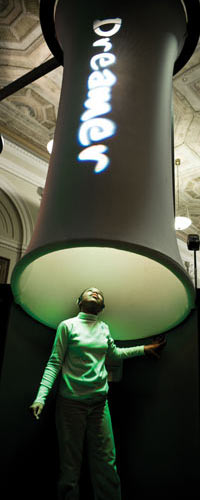 Ever wondered what makes you YOU?
Most of us have pondered this philosophical question at some point in our lives, never quite reaching a fully comprehensive and satisfactory answer. And while we may never truly know what makes us who we are, the Science's Museums new exhibit, Identity: An Exhibition of You, examines the major factors that contribute to one's identity. By exploring the physical, psychological, and social elements that influence our identity, the Identity exhibit provides intriguing insights on what makes us tick.
Curious about what you will look like in the future? Find out how the choices you make will influence your identity by taking a gander at your future self.
The brain is an amazingly complex organ, but do you know the role it plays in influencing your identity? Examine how brain chemistry, brain structure, and brain activity impact your thought processes.
Think you've got other people all figured out? Challenge your assumptions and explore your biases with clever, interactive tests; the answers might surprise you!
Why should kids have all the fun? For one night only (during this exhibit), the Science Museum will be hosting a Social Science event for adults only (21+). Visit the Science Museum on Wednesday, December 7 from 7:00 to 11:00 pm for Masquerade to celebrate the new Identity exhibit. Nerd out in the company of other adults, grab a drink, sample local food, and don a mask as you explore the museum's exhibits (which will all be open). *The Science Museum asks that you wait to put on your mask until you have entered the building.
Cost is $8 for Science Museum members, $12 for non-members.
Tickets will be sold at the doors on December 7, tickets can be purchased in advance by calling (651) 221-9444 or (800) 221-9444, or you can purchase tickets to the Identity exhibit online.
Can't make it to the adults-only event? Or want to bring the little ones along? The Identity exhibit runs through January 8th, 2012. Visit the Science Museum website for more information on museum hours.
Science Museum of Minnesota
120 W. Kellogg Blvd.
St. Paul, MN 55102
Email: info@smm.org
Phone: (651) 221-9444 or (800) 221-9444
Like the Science Museum of MN on Facebook.
Follow @sciencemuseummn on Twitter.