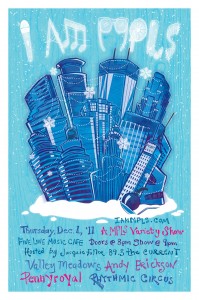 Your Thanksgiving dinner table has been cleared, your relatives are gone, and the insanity of Black Friday is over; now is the time to take a moment for yourself.
This Thursday, December 1st, the Fine Line Music Café will be hosting the second annual I AM MPLS!, an incredibly unique show created by fashion consultant Sarah Edwards. I AM MPLS! is a "passion project." It is an event produced to highlight the immense talent that is nearly bursting Minneapolis at the seams.
Sponsored by 89.3 The Current, Thrifty Hipster, and City Pages, I AM MPLS! blends the music, dance, comedy, and fashion styles of some of Minneapolis's greatest talents, with the goal of leaving each audience member feeling inspired.
Doors for I AM MPLS! open at 8:00 PM and the show begins at 9:00 PM. Jacquie Fuller, a host on The Current, will host the show, and DJ Nancy Cheng will provide the music for models wearing the latest fashions created by Minneapolis's finest to stride down the runway to.
Tickets are available online, at the Electric Fetus, and The Fine Line, and are $15.00 in advance and $18.00 at the door. This is a 21+ event, so come thirsty!
No show can go on forever, but the fun definitely will not be ending once I AM MPLS! is over; an after-party will be hosted once the show is done at Fine Line. DJ'd by Dirty McKenzie and SL8R, the after-party to I AM MPLS! is sure to be one you will be talking about for weeks!
Come out to the Fine Line Music Café on December 1st and support local talent! I AM MPLS! will definitely be a night to remember.
For more information, and to purchase tickets, visit iammpls.com.
Like I Am MPLS! on Facebook.
Follow @IAMMPLS on Twitter.