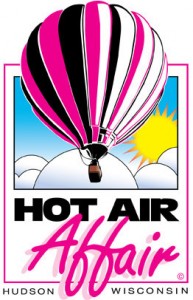 Face it, February in the northern latitudes can be dreary and bland. White snow, gray skies, lifeless trees. Where do you go to get a desperately needed pop of color to satisfy your weary eyes?
How about a sky filled with brilliant silks in hues of red, blue, yellow, pink and orange? As in hot air balloons of every color of the rainbow?
Make plans to attend Hudson Wisconsin's Hot Air Affair the weekend of February 3-5. In addition to multiple opportunities to view balloon launches and a twilight torchlight inflation, there will be geocaching, fireworks, a chili cook-off, a 5k run, craft shows, live music, and a parade featuring the event's "Year of the Dragon" Chinese New Year theme.
Visit hudsonhotairaffair.com for a complete listing of events, schedule, activities, and sponsors.
Like Hudson Hot Air Affair on Facebook.
Follow @hotairaffair on Twitter.
EP Rock School
340 13th St S
Hudson, WI
Map and Directions (bottom of the page)
Hudson, Wisconsin is just a few minutes east of the Twin Cities on I-94. Just cross the St. Croix river and you're there!
Since 1990, The Hudson Hot Air Affair is the premier winter ballooning event in the Midwest. Thousands of visitors head to the St. Croix Valley in west central Wisconsin to see about 40 colorful hot air balloons launch in mass ascensions on Saturday and Sunday mornings and light up the night at the Saturday evening Moon Glow or Field of Fire.