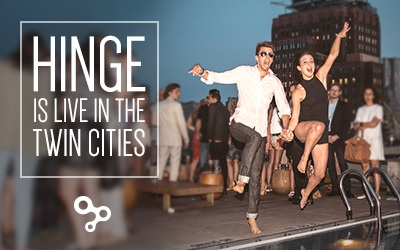 Meeting people today is hard. With the advent of smart phones and apps for everything, it was a given that there would be an app for that.
With apps like Tinder, they give you a large quantity of people to look through, but you have to narrow it down and hope you don't meet some rando. But if you are like me, you want quality over quantity any day. Wouldn't you like to meet people you'll click with and already know you are going to have something in common with?
Enter Hinge, the anti-Tinder! Hinge helps you meet new people through friends – every single day.
Instead of shallowly swiping endless faces of strangers around you, Hinge is focused on helping you find people you'll actually connect with – in a trusted authentic environment. Here's how:
1. No randos: Every day you'll receive up to 20 potential connections curated from your extended social circles (like friends of friends on Facebook) – instead of the strangers you'd meet on Tinder. Why? Hinge knows one of the best way to meet people is through friends – you're likely to have a lot in common, and trust and accountability are already established.
2. No frauds: Review validated profiles – pulled in from Facebook – that show details like workplace, education, full names, friends in common and other facts that matter when determining if you might want to meet up. Plus, surfacing jobs and full names keep people honest and accountable. No fakes or cat-fishing here.
3. No getting stuck behind the screen: If there's a mutual interest in meeting, Hinge introduces you. Hinge is about getting you offline – not staying on the app, endlessly swiping in your PJs.
Hinge is already live in 13 cities (DC, NYC, Boston, Philly, Chicago, SF, Atlanta, Dallas, LA, Austin, Houston, Seattle and Denver) and has made over 8M matches and has celebrated several Hinge-gagements! With the average user having 36 friends on Hinge, there is going to be someone interesting on there that you haven't met yet. 99% of Hinge users are college educated working in banking, consulting, media and fashion. 85% of downloads of the app are coming from word of mouth – so get out there and tell your friends!
Download the app here: http://tpsn.se/c/email/fbcfd/2 and get to meeting people Twin Cities!