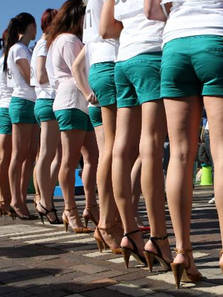 Ever wonder what it's like to run a race wearing 3-inch heels? No? Chances are you've not really thought about that, but this Thursday, you'll get a chance to participate in a short dash in tall heels to raise money for charity.
This 2nd annual event has been organized to help raise money for Emergency Foodshelf Network, a non-profit food bank distributing food and support services to Minnesota hunger relief organizations, and Project Footsteps, an organization that inspires, empowers and prepares youth to be agents of change, social leaders and volunteers.
It isn't just for the ladies. There'll be heats for both women and men. Registration begins at 4pm this Thursday, August 11th at Peavey Plaza. Orientation will begin at 5:20 and be repeated at 5:40, 6:00, and 6:20 for new arrivals. The first heats start up at 6:30pm. There'll be 10 racers per heat.
The organizers ask that you raise at least $100 to participate, and pay a $20 registration fee. Create your own page by clicking on www.razoo.com/team/​Highheeldash Then in the "Join this Team" box, click on Fundraise. Don't forget to promote your fundraising page on Facebook and Twitter (or LinkedIn, Google+ or whatever you use).
If you don't exactly fancy yourself a runner, fret not. The "dash" really means exactly that. It's only 25 yards. Pretty much anyone can do that. The heels will make it interesting, though. Remember, heels have to be at least 3 inches. Same goes for the fellas.
There will be a post-race afterparty at a location that's yet to be determined, as of this writing. RSVP on the Facebook event page to stay in the loop.
Make checks payable to Aegis Foundation and send in your early registration to confirm your spot.
Aegis Foundation
349 E. 35th Street
Minneapolis, MN 55408
For more information please email info@aegisfoundationinc.or​g or call (612) 280-4256.
Race Location:
Peavey Plaza
1100 Nicollet Ave.
Minneapolis, MN 55403