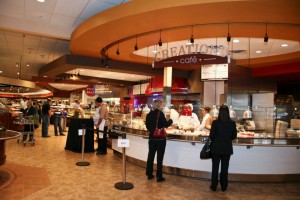 Do you regret eating that fifth frosted Santa cookie? All the latkes? That plate of shrimp and canapés on Christmas Eve? Can't stop picking at the tin of homemade fudge and candies Aunt Betty gave you? So stuffed you can't even think about New Year's champagne?
Ready to make good on the annual resolution to eat non-processed foods and change your lifestyle? For our last cooking installment this year, let Byerly's registered nurse and dietician, Janice Cox provide you with the tools to make the sensible choices that will lead to achieving and maintaining a healthy weight.
Byerly's in Ridgedale is offering a Healthy Weight and Lifestyle series during the month of January. Classes are weekly on either Tuesdays or Wednesdays.
For $60 you'll learn about committing to change, risk factors associated with obesity, healthy eating plans, portion sizes, menu reading, food preparation tips, support for coping with emotional eating, and planning for success and maintenance. No weigh-in necessary, just some help with your fresh start!
Tuesday classes start January 3, and are from 11:30am to 12:30pm. Register online or call (952) 941-1414.
Wednesday classes start January 4, and are from 11:30m to 12:30 pm. Register online or call (952) 941-1414.
Byerly's Ridgedale
13081 Ridgedale Drive
Minnetonka, MN 55305
(952) 541-1414
Class registration is for all four weeks. No individual weekly registration accepted or refunds for individual weeks not attended. At the completion of session four, members receive a $20 Lunds and Byerly's gift card. For information about Lunds and Byerly's, or for other class information, go to their website at lundsandbyerlys.com or join them on Facebook.
Lunds and Byerly's want to offer customers a sensational shopping experience each time they visit any one of their 10 Lunds or 11 Byerly's supermarkets in the Twin Cities and surrounding area.