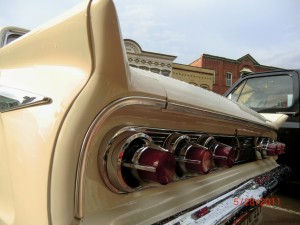 Summers are just not long enough here in Minnesota. Weekends aren't either, and why don't our paychecks stretch farther? That's why we love going to the Hastings Cruise-In Car Show in Hastings, MN, which runs every other Saturday night beginning Memorial Weekend and stretches into October of each year.
Located just south of the Twin Cities, Hastings is a quaint little town nestled right on the Mississippi River. The car show is set up in historic downtown, just one block from the river. It brings out people of all ages, and even better? Admission is FREE!
Downtown Hastings is blocked off, allowing you to meander around and take in all of the cool old cars (only cars from 1976 and older are allowed!). Even if cars aren't your thing, it's still a great time. There are food trucks and street vendors set up selling delish treats like roasted corn on the cob, fresh made-to-order tacos, homemade onion rings and popcorn. A favorite treat of ours? ICE CREAM! Each person in our family chooses a different flavor and we take turns sharing out of the ordinary flavors like Blueberry Waffle Cone, Superman, and my all time favorite – BIRTHDAY CAKE!
In addition to the great food truck vendors, there are also other restaurants you can go to grab a bite to eat, places with great views so that you can sit and watch the goings-on on the Mississippi River or see a glorious sunset during dinner.
Many of the stores stay open late on the nights of the Cruise In and you can find so many fabulous treasures in the many antique stores located in downtown Hastings. The beauty school has folks outside doing 'Fair Hair' and face painting. Or you can treat yourself to something so delightful it should be illegal from Creative Confectionaire! Even if you aren't into all of this, it's a great place to take a walk with your family on one of our glorious Minnesota Summer Nights!
For more information, visit www.hastingsdowntown-mn.com/cruise-in.
Darcie Gust
www.gustgab.com