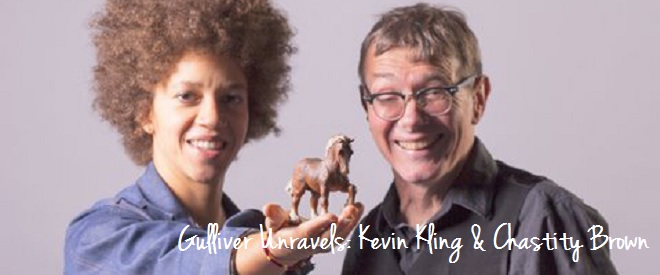 This Thanksgiving, after you've had your fill of turkey and mashed potatoes, and after you've saved hundreds on your holiday shopping, make a trip over to the Fitzgerald Theater in St. Paul for a truly unique show combining classic literature, contemporary music, and true events; Gulliver Unravels: Kevin Kling and Chastity Brown.
Kevin Kling is a renowned storyteller, actor and playwright from Osseo, Minnesota. He has produced some of Minneapolis's most groundbreaking plays, including "21A" and "Fear and Loving in Minneapolis", and is well known throughout the country from his contributions to NPR's, All Things Considered. Kling pairs up with singer/songwriter Chastity Brown, known for her banjo-infused soul music, to make Gulliver Unravels a distinctive and interesting tale.
Directed by Peter Rothstein, director of such award-winning productions as "Spring Awakening" and "La Boheme", Gulliver Unravels weaves stories from Kling's personal life and songs by Chastity Brown with the outrageous adventures in the Jonathan Swift classic, Gulliver's Travels. The tale begins in a northern Minnesota bar where Chastity Brown is playing and Kling meets up with a man, Gulliver, whose witty conversation strangely resembles the great escapades from the famous 18th century Swift novel. A wild ride through strange lands, crazy adventures, and excellent music, Gulliver Unravels is a show that is sure to not only entertain audiences of all ages, but inspire them as well.
The show, presented by Minnesota Public Radio, will take place at 8:00 PM on Friday, November 29th and Saturday, November 30th, and at 2:00 PM on Sunday, December 1st. Tickets are $35. This is a literary event you don't want to miss!
For more information, please visit http://fitzgeraldtheater.publicradio.org/events/