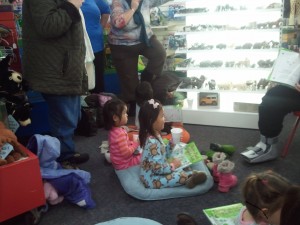 Thanksgiving can sometimes be forgotten between the thrill and sugar-rush that results from Halloween and the excitement of Christmas and Hanukkah.
Looking for an out of the ordinary way to remind your grandkid(s) of the importance of Thanksgiving, while also participating in a fun and unique activity with them? Look no further! On Sunday, November 20th, Creative Kidstuff will be hosting a special Grandparent/Grandchild Thanksgiving Story-time Activity. The event will take place at all Creative Kidstuff stores, and will start at 9:30 Sunday morning and last until about 11:00 AM.
Come hungry, because while listening to a special Thanksgiving story, you and your grandkid(s) will be invited to snack on delicious breakfast goodies.
You will also be given all of the supplies needed to create an irreplaceable Thanksgiving centerpiece that your grandkid(s) can proudly display on your Thanksgiving dinner table for all of your family to see. You will also receive a copy of the book that will be read during the event, Thanks for Thanksgiving by Julie Markes.
Registration is required for this event, and space is limited, so don't forget to sign up! The activity is $15.00 per grandparent. The suggested age group of this event is between the ages 4-8, although no child would ever be turned down from participating.
To register, call your favorite Creative Kidstuff location. A list of all locations and phone numbers can be found online at www.creativekidstuff.com.
Creative Kidstuff
Store Locations and Hours:
Edina (Galleria)
3555 69th Street
Edina, MN 55435
952-926-4512
Open M-F 10-9; Sat. 10-8, Sun. 11-5
Maple Grove
11647 Fountains Drive
Maple Grove, MN 55369
763-424-2576
Open M-F 10-8; Sat 10-6; Sun 12-5
Minneapolis
4313 Upton Ave. S.
Minneapolis, MN 55410
612-927-0653
Open M-F 10-8; Sat. 10-6, Sun. 12-5
St. Louis Park (Shops at the West End)
1665 West End Blvd
St. Louis Park, MN 55416
952-540-0022
Open M-F 10-9; Sat. 10-9, Sun. 12-6
Saint Paul
1074 Grand Ave.
Saint Paul, MN 55105
651-222-2472
Open M-F 10-8; Sat. 10-6, Sun. 12-5
Wayzata
1135 E. Wayzata Blvd.
Wayzata, MN 55391
952-249-1707
Open M-F 10-8; Sat. 10-6; Sun. 12-5
Like Creative Kidstuff on Facebook.
Follow @CreativeKidstuf on Twitter.