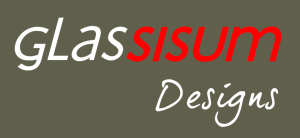 One of the most awesome things about Northeast Minneapolis is the art scene. Known for the lively art crawls and numerous working studios we really think Northeast is the art mecca of Minnesota. Tucked up on the fourth floor of the Northrup King Building is Glassisum Designs who creates lively and bright Stained Glass pieces.
Katie Sisum of Glassisum Designs has a vision to create glass designs that rival traditional thoughts and feelings of Stained Glass. Katie's designs provoke interaction, movement and bright smiles; and you'll think so too when you check out her work at http://glassisumdesigns.com/.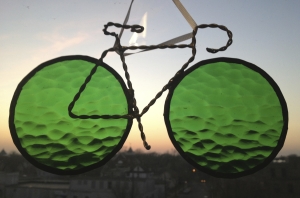 Located in Northeast it's not coincidence that Katie is also a cyclist who has found a way to intertwine this passion with her glass. Taking the bicycle off the road and into just about any space. Check out some of her bicycle inspired art at http://glassisumdesigns.com/bicycle-art/. If you are a cyclist you will love these pieces! Most of her window and cabinet panels are created with the owners interests and passions and if you catch her before art fairs she is offering 10% off any custom project for your home!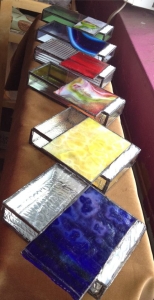 If you are thinking ahead to our next gift giving holiday you will want to know that you can wrap up your Valentines shopping at Katie's studio. She shares her space with two jewelry artists so once you pick out a piece for your special someone Katie can create or provide you with the perfect presentation piece – a glass box! Katie's selection of glass boxes is from large to small and many can be previewed on her website at http://glassisumdesigns.com/keepsake-boxes/. Glass boxes are perfect for that person that has everything and are also great for baby shower gifts or bridesmaid gifts as they can be created as personal as the recipient.
Stop into her Northeast studio on the first Thursday of any month or set up an appointment to stop by and see her beautifully crafted memory boxes, bicycle sculptures, garden art and panels. Mention this blog posting when you see her in her studio for 15% off any in stock item she has!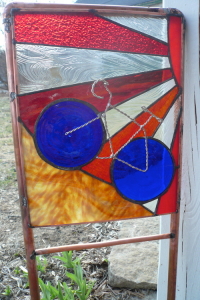 Glassisum Designs is on Facebook at: https://www.facebook.com/GlassisumDesigns
Exclusive deals announced via ENews: Subscribe me at http://glassisumdesigns.com/subscribe-to-enews/