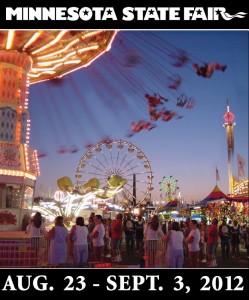 Many Minnesotans and State Fair aficionados across the nation spend their summers looking forward to the annual Minnesota State Fair, many trekking long distances to reach the "The Great Minnesota Get-Together." Whether you are a foodie who loves to sample deep-fried goodies, someone who is looking to immerse themselves in Minnesota culture by checking out all of the agricultural displays and purchasing locally-made goods, or a family with children who love to ride the rides, the State Fair has something for everyone.
An estimated 1.7 million people attended last year's State Fair overall, which makes planning your visit ahead of time a must if you want it to go smoothly. With so many others in attendance, getting there and parking are obvious issues. Read on for a few tips and suggestions on how to get to the fairgrounds and where to park when you get there.
Have a bicycle? Why not bike on over to the fairgrounds? If you live within biking distance a leisurely bike ride is a quick, convenient way to get to the State Fair. Free parking is available to bikers in the bike corrals located at the Como-Snelling Gate (#6), the Hoyt-Snelling Gate (#2), and the Commonwealth-West Dan Patch (#15). As an added bonus you'll burn off a few calories gained from eating deep-fried goodness.
Don't feel like driving? Why not hop on an express bus? For just $5 you can hop on one of 19 conveniently located express busses, which will take you to the fair and back. For a complete listing of express bus locations and hours of service, visit the Minnesota State Fair Express Bus Service webpage.
Plan on driving? Limited parking is available in official State Fair lots for a $12 fee, $24 for vehicles with trailers. The fee can also be paid with one (two for vehicles with trailers) additional pre-fair discount admission ticket(s). Parking in State Fair lots are first come, first served, so if you plan on snagging a nearby parking spot you have to plan on arriving early.
If you plan on driving but hate the idea of paying for parking (or the paid lots have already filled up by the time you arrive), why not park in a nearby designated lot and take advantage of a free bus ride to the fair? The park free, ride free program has been hugely popular in years past and offers fair attendees free bus rides to and from several local area parking lots. Most lots offer transportation every 20 minutes from 8 a.m. to midnight. For a full listing, visit the park free, ride free program webpage for participating parking lots. If you plan on arriving at the State Fair later in the day, check out lots that are farther away as the closest ones fill up quickest.
Additional fun planning tips:
Can't find a particular food item you have been dying to try? Want to stay updated on daily State Fair events? Well, there's an app for that! Search the iPhone App Store or Android Market to download the free Minnesota State Fair App which features a Food Finder, Fun Finder and Merch Search tools to help you find your favorites at The Great Minnesota Get-Together.
The Fun Finder is also available online and allows you to keep track of which events and activities you don't want to miss. Simply select which day you plan on attending and a list of events with check boxes next to them appears. Select your events and when you're done hit the "View my State Fair" button and… voila! You have a personalized schedule of events you can print off and take with you to the fair!
*The Minnesota State Fair begins on Thursday, August 23rd and runs through Monday, September 3rd.
Minnesota State Fair
1265 Snelling Ave
Saint Paul, MN 55108
(651) 288-4400
www.mnstatefair.org