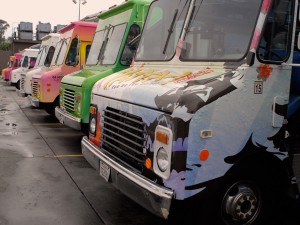 Foodies rejoice! Food truck fans will be pleased to learn that on Sunday, August 5th the first ever Minnesota Food Truck Fair will be held in Downtown Minneapolis. Food trucks are beloved by many city dwellers and are greatly missed during the winter months so it is only natural that they be celebrated during the months they are mobile.
Just imagine it! All of your favorite food trucks in one convenient location! The Minnesota Food Truck Fair will be held at 300 3rd Ave N in Minneapolis, from 12:30 – 5:30 p.m. Enjoy a fun, food-filled day and leave a happy, albeit full person.
Participating food trucks include:
Twisted Sister
YumMi Truck
Simply Steve's
Chef Shack
GastroTruck
Chef Driven Companies
Anchor Fish and Chips
Hola Arepa
…. and MORE!!!
There are a variety of ticket options available for the event ranging from general admission to tickets that allow for unlimited sampling. Tickets are selling fast, so don't miss out! Order your tickets to the 1st Annual Minnesota Food Truck Fair today!
Highlights include live music, activities like yard games and even a mini-put golf course, and the opportunity to sample a delicious mini blucy from the famous Blue Door Pub. For those of legal drinking age, beer from over 25 different breweries will be served and 2 Gingers Whiskey will also be giving out tastings of their smooth and delectable whiskey.
Don't miss out on all the tasty eats and fun festivities at the 1st Annual Minnesota Food Truck Fair!
Like the Minnesota Food Truck Fair on Facebook.
Follow @MNFoodTruckFair on Twitter.