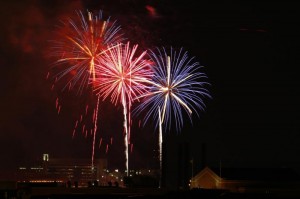 We did so last year and got a great response from our readers, so we thought we'd give you a run-down of a few great places to catch fireworks in the Twin Cities this summer, as part of 4th of July or summer celebrations. Almost every suburb and city has a 4th of July celebration of some kind, but a few stand out as having top-notch fireworks shows.
Minneapolis Riverfront: Red, White and Boom!
Arguably, the biggest and best of the 4th of July celebrations in the area is Minneapolis Red, White and Boom! Taking place in Father Hennepin Bluffs Park, this celebration has lots of family fun, including four stages of live music, great food, and free family activities for all. Parking is available in the St. Anthony Falls Parking Ramp and the fireworks start at 10pm. Visit www.mplsredwhiteboom.com for details.
Mississippi Riverfront
212 2nd Ave. S.E.
Minneapolis, MN 55414
4th of July Celebration – Excelsior
If you're in the west metro, one of the best celebrations you'll find is the 4th of July Celebration in Excelsior, on beautiful Lake Minnetonka. The evening includes a salute to veterans at 8:15pm and a performance by the Minnesota Orchestra at 8:30, followed by the fireworks at 10. There will be family-friendly fun throughout the evening as well. For a list of activities, or if you want to contribute to the celebration fund, check the South Lake Excelsior Chamber of Commerce website.
Excelsior Commons Park
21 Water St
Excelsior, MN 55331
4th of July Celebration – Powderhorn Park
Fireworks begin at 10pm. Come early for music food, and fun. Details at ppna.org/upcoming-events/4th-of-july-celebration.
Powderhorn Park
3400 15th Ave. S.
Minneapolis, MN 55407
(612) 370-4960
Manitou Days
Each summer, White Bear Lake does a multi-day celebration called Manitou Days. This year, it started June 16th, and culminates with the big 4th of July Celebration, which includes a lighted boat parade. Enjoy free food and entertainment at a community picnic. Dance under the stars. Ride on a pickle bucket boat. It's fun and friendly family entertainment for all. Check out the Manitou Days website for more information.
Manitou Days
White Bear Lake, MN 55110
Fourth of July Celebration – Coon Rapids
Live DJ and fireworks in Sand Creek Park. Fun starts at 10pm.
Sand Creek Park
1008 Northdale Blvd N.W.
Coon Rapids, MN
Fourth of July Celebration – Roseville
Party in the park for Roseville's Rosefest 2011! There will be festivities all day long, including a fireworks display when the sun sets.
Central Park
2540 Lexington Ave. N.
Roseville, MN
Fourth of July Celebration – Eagan
The Eagan July 4th Funfest ends with a spectacular fireworks show over Central Park. Enjoy games and activities for the little ones, a Texas Hold 'Em Tournament, a concert by The Dweebs, then fireworks at 10pm. Fun starts at noon on Monday July 4th.
Central Park
1501 Central Parkway
Eagan, MN
Fourth of July Celebration – Stillwater
Beginning at 7pm the Dakota Valley Pops Orchestra will perform at Lowell Park and the St. Croix Valley Jazz Orchestra will perform at Pioneer Park. Enjoy fireworks choreographed to music in downtown Stillwater in Lowell Park over the beautiful St.Croix River. Show beings at dusk. Get there early.
Lowell Park
100 S. Main Street
Stillwater, MN
Fourth of July Celebration – St. Louis Park
Stevie and the Table Rockers perform live alongside a variety of concessions and vendors, as you celebrate the fourth of July in Aquila Park. The spectacular fireworks show gets underway around 10pm.
Aquila Park
3110 Xylon Ave. S.
St. Louis Park, MN
This is far from an exhaustive list of the many 4th of July and summer celebrations happening in the Twin Cities. Add your own in the comments below, if there's a fireworks show you'd like to share.
Have a safe and happy 4th of July, Twin Cities!