Finding Joy is a local artisan boutique located in Chanhassen that features the work of over 70 artists. All items are handmade by MN artists and range in price from $1-$200. Perfect place to find that unique gift, or a little something for yourself. We have everything from fine art to handmade dog treats, so there is truly something for everyone! Check the calendar section of the website to see upcoming events.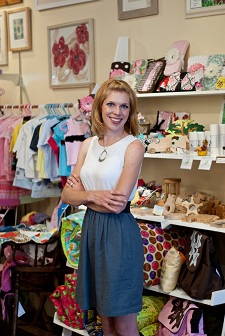 About Christie Larson – Owner and Artist:
As a child, Christie grew up in St. Paul with her parents and older sister. With degrees in Social Work from St. Olaf and Public Policy from American University, she never expected to be an artist or run her own art business. "I've realized everyone has a creative side, even if they don't know it. My hope is to spur their creative process at Finding Joy."
For 365 readers: bring in a copy of this post and get a free pair of earrings just for stopping in!
Finding Joy – A Local Artisan Boutique
7838 Market Blvd.
Chanhassen, MN 55317
Phone (612) 250-7286
Email: info@findingjoyboutique.com
Website: www.findingjoyboutique.com
Like Finding Joy Boutique on Facebook.