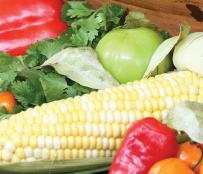 What do you get when you combine locally grown food, skilled chefs, an amazing 7-course dinner, and the warm, fuzzy feelings that accompany good deeds? The answer: Farm in the Cities!
On October 30th, Six Rivers Cooperative and participating restaurants will be presenting a fundraising event at Solera for Second Harvest Heartland, the Midwest's largest hunger relief organization. By working closely with a network of partners, volunteers, and donors, Second Harvest Heartland is able to quickly and effectively provide food to those in need and work towards preventing hunger.
Farm in the cities is also an opportunity for Second Harvest Heartland to draw attention to locally grown food and the restaurants that utilize them in their menus. Beginning at 4pm, participating farmers and chefs will educate attendees about local farms and demonstrate food preparation using local products, in addition to serving up fantastic appetizers made with fresh, local ingredients. This portion of the fundraiser is free and will be a great resource for those interested in learning more about the locally grown produce available in and near the Twin Cities.
A cash bar will also be available, with the proceeds going to Second Harvest Heartland. Small cash donations and canned food items will also be accepted.
The 7-course dinner (including dessert) is scheduled to begin at 6pm, which includes wine and beer pairings throughout each course. As dinner is served, participating local chefs will share their culinary acumen on the products they used to create their dishes. The dinner costs $125 per person with the proceeds benefiting Second Harvest Heartland.
For a complete listing of all of the local chefs, restaurants, and farmers who will be participating in this fundraising event, visit Solera's Farm in the Cities page.
To make reservations for this event, contact Jay Viskocil at Solera by calling (612) 338-0062 or by emailing jayviskocil@solera-restaurant.com.
Solera
900 Hennepin Ave
Minneapolis, MN 55403
(612) 338-0062
Like Solera on Facebook.
Follow @Solera_mn on Twitter.