365 Twin Cities readers have traditionally loved anything done by Exultate Chamber Choir & Orchestra so we wanted to make sure we hit on their upcoming Christmas performances. Tidings of Joy will surely be stunning as is all of their work. This year you'll hear selections from Bach's Christmas Oratorio, an extraordinary work retelling the Christmas story with angelic choirs singing sweet lullabies and the exuberant joy of instrumental music. And of course the show is complete with Exultate's repertoire of carols and traditional songs with audience participation!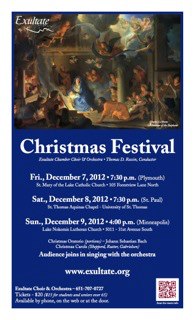 Friday, December 7 – 7:30 pm
St. Mary of the Lake Catholic Church
105 Forestview Lane N in Plymouth
Saturday, December 8 – 7:30 pm
Chapel of St. Thomas Aquinas – University of St. Thomas
2115 Summit Avenue in St. Paul 
Sunday, December 9 – 4:00 pm
Lake Nokomis Lutheran Church
5011 31st Avenue South in Minneapolis 
Tickets are $20 ($15 for seniors 65+ and students under 16), and can be purchased online at exultate.org, at the door, or by calling 651-707-0727.
For more information about this and other upcoming performances, visit exultate.org. You can also follow Exultate on Facebook and Twitter for updates about auditions, being a benefactor, recordings, concerts, and more.