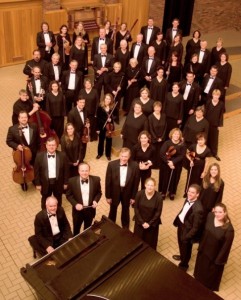 Time to Fall Bach!
Autumn is the perfect time to enjoy the rich sounds of classical music. Soothing strings, plush piano, and velvet voices combine to create soaring sounds to accompany the deep and vibrant colors of the season.
Exultate is a Twin Cities chamber choir and orchestra founded in 1996. Conductor Thomas D. Rossin and his group of talented musicians are pleased to bring you the Baroque stylings of Bach, Vivaldi, Corelli, and Rheinberger for their first concert of the season on October 22 and 23.
The repertoire includes:
Johann Sebastian Bach – Kyrie (from Mass in B Minor)
Johann Sebastian Bach – Cantata No. 4 (Christ lag in Todesbanden)
Johann Sebastian Bach – Unaccompanied Cello Suite No. 6
Antonio Vivaldi – Piccolo Concerto
Archangelo Corelli – Concerto Grosso, Op. 6 No. 5
Josef Rheinberger – Kyrie & Gloria from Mass in Eb for 2 choirs
Concert dates are:
Saturday, October 22 – 7:30 pm at Golden Valley Lutheran Church in Minneapolis
Sunday, October 23 – 4:00 pm at Lake Nokomis Lutheran Church in Minneapolis
Order concert tickets online or call 651-707-0727.
2011-2012 Season
Concert Tickets:
Adults $20.00
Seniors (65+) $15.00
Students under 16 $15.00
For more information about Exultate, check out their website www.exultate.org.
Like Exultate Chamber Choir & Orchestra on Facebook.