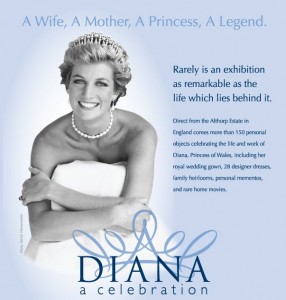 This year marks the 15th anniversary of the tragic death of Diana, Princess of Wales. For many it's difficult to believe that she has been gone so long, for younger readers, they may barely remember her at all. Yet her aura lives on and captivates still. She is credited with considerable influence for her public campaigns against the use of landmines, and helping the victims of AIDS.
The Mall of America plays host to the remarkable Diana: A Celebration, an exhibition that chronicles her life and work. See over 150 objects from Diana's estate, including her royal wedding gown and designer dresses, diamond tiaras, family heirlooms, personal mementos, rare home movies and photos, and books of condolences left by people throughout the world.
The tour runs now through June 10, 2012. Tickets are $13.50 to $23.50 and can be purchased by calling (800) 745-3000 or at Ticketmaster.
Mall of America – Level 4
8100 24th Ave S
Bloomington, MN 55425
mallofamerica.com
For much more information, history, galleries, exhibit hours, and online store, visit dianaexhibition.com or follow on Facebook.
All profits go to The Diana Princess of Wales Memorial Fund. Since opening in 1998 at Althorp Estate, the Spencer family's ancestral home in England, more than 1 million people have visited the exhibit, generating more than $2 million for charities supported by the memorial fund.