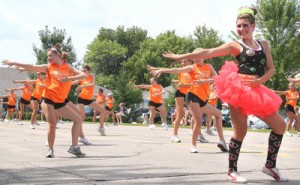 Good news! There's still 3 days left of Derby Days in Shakopee.
If you're a resident of Shakopee or the surrounding burgs, you are very likely already familiar with Derby Days. If you're not, pay attention.
Derby Days is a 5-day festival that hits Shakopee the first full weekend of August each summer. Starting at 10am this morning, you'll be able to catch lots of carnival games, family fun, cash bingo, market fairs, food concessionaires, live entertainment, and a whole bunch more.
Saturday is packed full of fun from 8am all around the clock til the fireworks display at dusk closes out the day. Catch more food concessions, a pedal pull, a 5k run, a kiddie parade, a market fair, a turtle derby, a diaper derby/toddler trot, a sawdust pile grab, prize bingo, cash bingo, a soapbox derby, and live performances from the Metropolitan Dance Alliance, Redpath, and Casablanca Orchestra.
Sunday afternoon the parade at 1:30 marks the close of Derby Days. Check the schedule for times and more details on the events.
Read more information on Derby Days at www.shakopeederbydays.com.