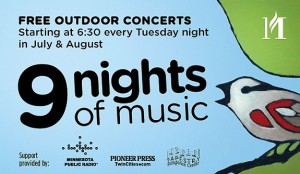 One of the best things about summer is enjoying being outdoors. Minnesota has beautiful summers so its a great idea to enjoy what the Twin Cities has to offer for those who love to have fun enjoying outdoor activities.
Well, today we're not talking about hiking or biking trails, no state parks to fish, swim or water ski, and we're definitely not talking about heading to the lakes, either. Outdoor activities are plentiful all over this great urban (and SUBurban) landscape.
Opportunities for seeing live music outdoors are many in Minnesota, especially with all of the summer festivals this time of year. Today we'd like to tell you about Nine Nights of Music every Tuesday in July and August. The popular series, now in its 14th year, presents the rich and vibrant rhythms and sounds of Minnesota's multicultural community in free outdoor performances at the Minnesota History Center.
Tapestry Folkdance Center co-sponsors dance instruction. Get out your dancing shoes for saucy salsa, soulful Motown, and classic big band swing.
Minnesota History Center offers free admission on Tuesdays from 5 p.m. to 8 p.m., so get there early and take advantage of free admission to the museum galleries, special extended evening events and the Museum Stores open until 8 pm.
Bring a lawn chair and pack a picnic or purchase food from the Café Minnesota terrace grill while you enjoy free concerts on the grounds of the Minnesota History Center. The series kicks off Tuesday, July 6 with International Reggae All-Stars. Music starts at 6:30 and they play until 8. With band members hailing from Venezuela to Trinidad, and Ghana to Jamaica, the group plays all the Bob Marley classics. The ensemble, led by vocalist Lynval "Golden Voice" Jackson, brings peace, love and positive global vibrations with them wherever they go.
Next Tuesday, the 13th, Millie and the Mentshn come all the way from Bellingham, Washington with their frenetic blend of swing, jazz, tango, Yiddish art songs and Klezmer dance music to the series, and the 20th will bring a Beatles tribute by classic rock cover band RetroFit. For a full schedule of this summer's concerts, see the online schedule.
The Minnesota History Center is located at 345 W. Kellogg Boulevard in St. Paul, so it's easily accessible by public transit and there is plenty of parking nearby. There is a nominal fee for parking. In case of rain, performances will move inside to the History Center's 3M Auditorium.
Call The Minnesota History Center at (651) 259-3000 or visit them online for more information.