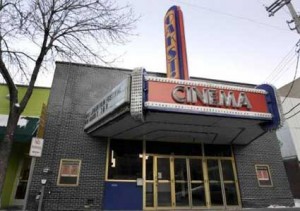 Sometimes on these hot summer days, it just makes sense to relax in a dark, cool place with a snack or beverage. Of course I'm talking about a movie theater. Minnesota Film Arts is a non-profit organization that offers the opportunity to do just that.
Minnesota Film Arts (MFA) is dedicated to fostering an active and living appreciation of the film arts in the Twin Cities and greater Minnesota. They pursue their mission through numerous programs in the areas of presentation, production, and advocacy. MFA is devoted to presenting the best of new and historical independent and international cinema to the people of the area.
There are a number of programs currently employed by MFA. Oak Street Cinema hosts special screenings, rentals, and fest parties. With over 300 seats and 35mm/digital projection equipped, the Oak St. is an ideal venue to host a local premiere or private event.
Access Screening provides opportunities for and collaborations with special interest groups that enable them to use our respective theaters at or below cost.
There are also advocacy programs and collaborative production programs that members or guests can take advantage of.
The main venue for MFA screenings is the St. Anthony Main Theatre. This month, the theatre is screening festival favorites such as The Sun Behind The Clouds, The Search, and Dalai Lama Renaissance, all part of Tibetan Film Week. Later in the month, expect screenings of Looking For Eric, Teza (Morning Dew), Exit Through the Gift Shop, Music on Hold (Musica en Espera), and others. For a complete list of screenings and show times as well as plot synopses, see the MFA home page.
MFA also hosts film one major festival in the spring, specifically Minneapolis-St. Paul International Film Festival (M-SPIFF), and Childish Film Festival. Aimed at Childish people aged 3 and up, the Childish Film Festival at M-SPIFF presents stimulating cinema that respects the innate intellectual curiosity of Children in a context of learning and fun.
Of course, MFA also provides opportunities for volunteering and support through membership. See the website for details.
For more information on MFA and venues for its programs, check out MFA online.