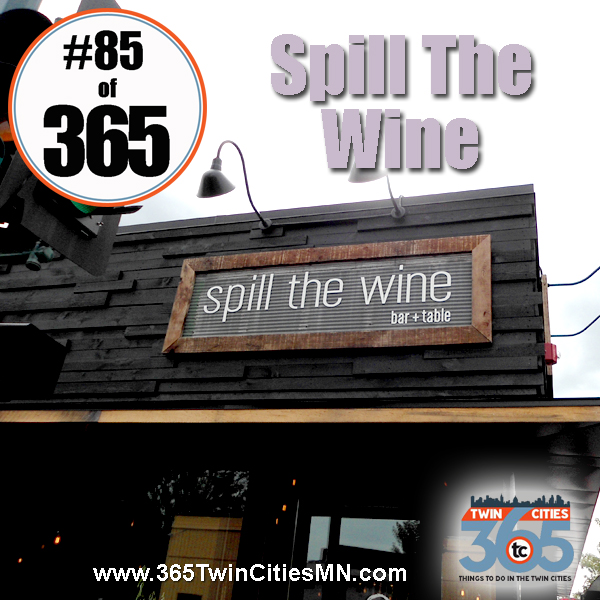 There's nothing quite like the perfect glass of wine to compliment a meal. One of the best wine lists in the Twin Cities can be found at Spill The Wine, in Minneapolis's Lyn Lake District at Lake Street and Bryant Ave. South.
Walking into Spill The Wine gives the feeling that you're really in the city. The new space is bigger, more open, with exposed brick, beams and ducts, contemporary furnishings — the space really typifies urban cool, with it's loft-like look and feel. The bar is even set atop wine barrels. And with a wine list consistently lauded as one of the best in the Twin Cities, Spill The Wine is more than just a clever name.
The food can best be described as American cuisine with continental influences. The menu features typical fine bistro fare including soups, sandwiches, appetizers, salads, pizzas, pastas, as well as entrees of chicken, beef, pork, lamb, and seafood.
And the right wine to pair with your meal can almost certainly be found on the extensive wine list.
Events and specials are scattered throughout the week as well, including happy hour Monday through Friday from 3 to 6 p.m. with its own set of specials, as well as late night Happy Hour from 10pm to close Monday – Thursday. Sunday brunch is also served Sundays from 10 a.m. to 2 p.m.
Spill The Wine has received numerous recent accolades locally, including:
2013 MSP Magazine Best Wine Bar
MN Monthly 2010 Best Wine Bar and Wine List
Minneapolis Tonight Top 5 Wine Bar (#1) 2012
Private dining is also an option for your group or party, and a special catering menu gives you options to choose from for your event.
Hours of Operation:
Mon-Thur 11am – 12am
Fri 11am-1am
Sat 10am- 1am
Sun 10am-12am
For more information visit Spill The Wine online.
Spill The Wine
901 W Lake Street
Minneapolis, MN
(612) 339-3388
www.spillthewinempls.com
Like Spill The Wine on Facebook.
Follow @Spill_the_Wine on Twitter.