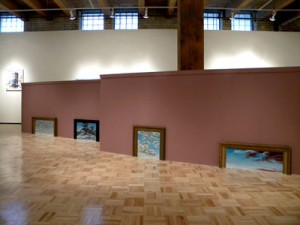 With the humidity and storms wreaking havoc on the comfort level of the outdoor world of the Twin Cities, a refreshing switch to some indoor fun might be just what the doctor ordered.
Thomas Barry Fine Arts in Northeast Minneapolis is featuring at or below sea level, an exploration into human perception by local artist David Lefkowitz.
at or below see level explores what is visible to the naked eye and how it relates to our knowledge of the world. The "see level" in the title refers to the horizon of what we can visually acknowledge. Lefkowitz identifies the relation between sea level and see level as a constructive analogy for addressing questions about the limits of perception.
Sea level functions conceptually as a boundary between what is visible (above) and what is not (below), the clarity of the air vs. the mystery of the deep.
The show will feature a wide range of materials and approaches, including oil paintings on two-by-four wooden planks, an image drawn with joint compound on sheetrock scraps, and a "drawing" made entirely of sticks and twigs, all incorporating Lefkowitz's trademark resourcefulness and humor.
The exhibition runs now through July 10th. Gallery hours are Tuesday through Saturday from 11 a.m. to 5 p.m. or by appointment. Call (612) 338-3656 for an appointment or more information. The gallery is located at 530 North 3rd Street, B10 in Minneapolis.
For more details on Thomas Barry Fine Arts or at or below see level check out Thomas Barry Fine Arts online.