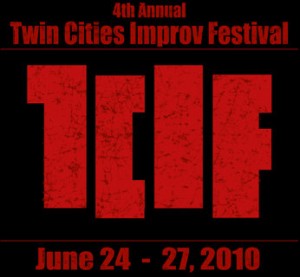 Maybe you've seen Whose Line Is It Anyway? on TV. It started out in the U.S. (formerly on the BBC) on Comedy Central and was later picked up by ABC with Drew Carey as the host. Ring any bells? What they did on that show was a form of comedy called improv, abbreviated from "improvisation."
Well, one of the biggest, baddest and freshest improv comedy venues in the country is right here in Minneapolis in the heart of Uptown. And their improv comedy training program, The Brave New Institute, is one of the most reputable in the U.S. as well, with alumni such as Louie Anderson and Al Franken. The Brave New Workshop is what I'm talking about.
The Twin Cities Improv Festival (TCIF) is coming up and will be held here at the Brave New Workshop. TCIF will feature improv comedy troupes performing skits, songs, plays, standup and other comedy routines without scripts. Improv can be such a fun and fresh way to see comedy because it's interactive. Many times, the routines are based solely on suggestions from the audience. There are also plays and musicals that incorporate improv based on suggestion at key points in the story, which take the story in unpredictable and often hilarious directions. TCIF will celebrate all things improv and give you the chance to participate, as well as make you laugh.
The festival starts Thursday evening, June 24th and wraps up Sunday June 27th. Each show features two comedy troupes doing about 30 minutes of improv, with each troupe specializing in a certain type of comedy with their own unique styles. The first show starts at 7 p.m., with the last of three shows starting at 10 p.m.
Friday evening, the first show starts at 7 p.m., with five total shows starting at 90-minute intervals. The last one starts at 12:30 a.m.
A special presentation of Storybox kicks of the festivities for Saturday night at 6 p.m., before the 7 p.m. show. Storybox uses improvised story theatre elements and Keith Johnstone's narrative techniques to re-create a fairy tale of the audience's choosing but with a bawdy, modern, and urban focus. Saturday night's regular festival shows are at 7 p.m., 8:30, and 10, the same as Thursday's shows.
The Sunday night, all-homegrown showcase is not to be missed. One ticket, one show, four groups – the perfect end to the TCIF! This showcase features Foterson, HUGE, Mustache Rangers. and Beatbox, all local talent. This festival finale starts at 8 p.m. on Sunday, June 27th.
The Brave New Workshop is at 2605 Hennepin Avenue South in Minneapolis (26th & Hennepin, across from Chipotle). Tickets for each show are $12. For tickets, visit Brave New Workshop's online box office or call (612) 332-6620. Box office hours are Tuesday-Thursday: 11 a.m. to 5 p.m., Friday: 9 a.m. to 9 p.m., Saturday: 10 a.m. to 11 p.m., and Sunday they're closed.
For more information on each show, showtimes, and a short bio of the performers, check out Twin Cities Improv Festival online.