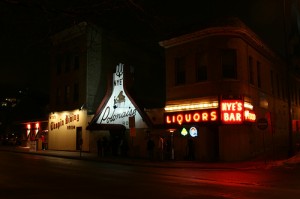 It's Fathers' Day today and what better way to treat that special dad than to take him out for a nice dinner while enjoying a cool atmosphere.
Nye's Polynaise Room, named "The Best Bar in America" by Esquire Magazine, offers an incomparable dining experience. Stepping into Nye's is like doing the time warp (Rocky Horror Picture Show, anyone?). Draped in red velvet and filled with oversized red Naugahyde booths, the charm of the place lies in the intergenerational crowd and the unique entertainment. Polka band? Check. Piano sing-alongs? Yep. Aging baby boomers mingling with Generation Y? Oh yes. The place has been doing its thing since the Truman administration. The older crowd appreciates that it reminds them of their younger days and the younger crowd finds it fun and kitschy.
Let's make this very clear. Most either LOVE the place or HATE it. Many perhaps, just don't get it.
As a restaurant, there is a section of the menu dedicated to Polish fare, of course a nice pairing with the polka band. But there are many traditional chophouse and seafood options, and a few other unique choices. The food and drinks are not cheap, to be fair, but the place is often packed, so people don't seem to mind. Evidently it's just THAT fun. Take a peek at the dinner menu to see what they have to offer.
After dinner, you can step into the polka bar for a drink and enjoy some ridiculous fun or catch Piano Karaoke or a sing-along in the piano bar.
Nye's also has banquet facilities, including a private banquet room for your event, or its main dining room can accommodate parties large and small. Call (612) 379-2021 to reserve a room for an event.
Located in historic Northeast Minneapolis, Nye's is just across the bridge from Downtown at 112 East Hennepin Avenue.
For more information, see Nye's Polynaise Room online.