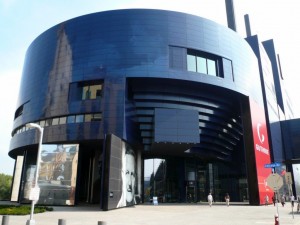 Sometimes an evening at the theater is just the culture you crave. The Twin Cities have their fair share of opportunities to experience live theater, but one of the best and newest is at The Guthrie Theater.
This ain't your typical small, intimate, near-a-college-campus theater that runs productions of unknown, but no-less brilliant, independent playwrights (although you could see similar productions on the smaller stages). This is the real deal. Large-scale, world-famous adaptations presented in a huge, beautifully-designed modern theater, with all the comforts and amenities you'd expect.
The Guthrie hosts a variety of cafes, restaurants and snack bars inside its own walls for a pre-show bite to eat. From fine dining at Sea Change to the bar and snacks at Target Lounge, there's a pleasing number of options available. Level Five Cafe offers something in between for more casual dining, and even has Level Five Express available for a grab-and-go meal or snack.
Called "a 21st century dream factory" by Time Magazine, the new Guthrie boasts three stages. The Wurtele Thrust Stage hosts well-known classic theater productions by playwrights such as Shakespeare, Henrik Ibsen, and others. The stage is designed to be flexible and customizable according to the needs of a each individual production.
The McGuire Proscenium Stage is for more contemporary plays focusing on the subtleties of characters' psychological development, and The Dowling Studio provides a totally flexible and well-equipped performance space to extend the theater's aesthetic, cultural and community connection.
Check out the FAQ page on the Guthrie Theater website. Also, for specific hours for The Guthrie Store, restaurants and the box office, see the Building Hours page. If you've never been there, they have a very useful first-time visitors page with lots of great information.
Visit The Guthrie online for more details and information.