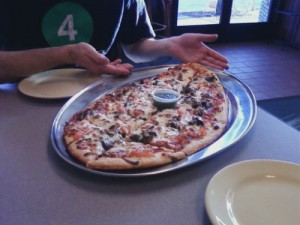 Sometimes you just crave a pizza. Because, who doesn't like pizza, right? Well, for pizza with a flavor, not from Italy, but a little further east, try one of the Afghani and "football" pies at Crescent Moon Bakery.
Founded in 2000 as a (sort of) typical bakery, Crescent Moon later added a full restaurant full of perfectly prepared, boldly spiced Persian food, particularly Afghani.
If you were to look it up on City Search, UrbanSpoon, or any other user-submitted review site online, the ratings for this place are off the charts. People rave particularly about the pizzas, but also the tender and flavorful kabobs, Kourma, and even Baklava. With its unique and interesting blend of spices and flavors, Crescent Moon is a perfect stop for the adventurous palate. Even if you're not so adventurous, there's a tame version of the spicy Afghani Pizza, called the Football Pizza. There's a variety of specialty pizza and tons of different toppings to customize or build your own.
Crescent Moon was voted Best Pizza in 2009 by Minnesota Monthly and Metro Magazine voted it Best Ethic Pizza in 2008.
Beyond pizza, there is an extensive menu of various sandwiches, pitas, and plates, featuring gyro, lamb, beef, chicken, fish, and vegetarian options, all with the flavorful spice that makes the food unique.
With two locations in Minneapolis, Crescent Moon Bakery is a great option for something a little different.
Locations are at 2339 Central Ave NE and 1517 Como Ave SE, both in Minneapolis. The Como Ave. location also delivers pizza, and it right near Dinkytown and the U of M. For delivery, call (612) 767-3313.
For more information and a menu with tantalizing photos, visit Crescent Moon Bakery online.