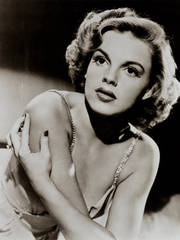 Today would have been Grand Rapids, Minnesota-born screen icon Judy Garland's 88th birthday. To commemorate, The Judy Garland Festival kicks of tonight at the Heights Theater in Columbia Heights.
Held in the Twin Cities for the first time, the Festival's opening event is a screening of A Star Is Born. While the movie screenings will be hosted by Heights Theater, most of the remainder of the festival will be at the Marquette Hotel in downtown Minneapolis.
On Friday June 11, you can try your luck at Judy Jeopardy and have Lunch With A Munchkin, as original Munchkin Jerry Maren will be on hand for a question and answer session.
There will also be a collection of gown worn by Judy Garland on display, courtesy of collector Michael Siewert. In addition to gowns worn in her iconic MGM films, there will also be pieces on display worn by Garland to social events. You can see gowns from this collection that were worn by Judy Garland in films such as Presenting Lily Mars, Meet Me in St. Louis, Easter Parade, A Star is Born and many more.
On Saturday June 12, Master of Ceremonies John Fricke will host a reprise of the question-and-answer time with Lollipop Munchkin Jerry Maren, who will also be selling and signing copies of his book, Short and Sweet: The Life and Times of the Lollipop Munchkin.
Also on Saturday, you can catch a premiere of formerly unreleased outtakes and alternate takes that comprise the extras in the forthcoming Warner Home Video Blu-ray and DVD release of A Star is Born.
Other treats you can catch on Saturday include a collectors' exchange and a Carnegie Hall Tribute Concert. This live show stars Jody Briskey singing Judy's Carnegie Hall classics accompanied by piano impresario Jimmy Martin and a three-piece band.
Prices are per event and vary depending upon the event. See the full schedule of events for details on costs, times and registration information.
You can also register by calling (800) 664-5839 or visiting the Judy Garland Museum online.
http://www.judygarlandmuseum.com/festival/SCHEDULE.pdf