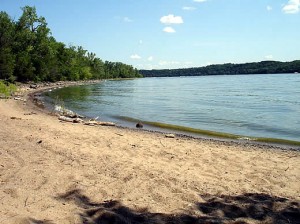 Summer is just around the corner, officially. But the weather has been telling us it's summer for some time now. And what better way to enjoy summer than to get out and enjoy the great outdoors. And there are dozens of places right within the Twin Cities that allow you to partake in outdoor recreation and commune with nature away from the bustle of urban life.
Today, we're talking about Fort Snelling State Park, located at the confluence of the Mississippi and Minnesota Rivers and adjacent to Minneapolis-St. Paul Airport.
Fort Snelling State Park offers extensive hiking, bike and ski trails that link to Minnehaha Park and the Minnesota Valley National Wildlife Refuge. Visitors can canoe on Gun Club Lake, play golf, swim in Snelling Lake, or hike on Pike Island. Interpretive exhibits and films on display in the Thomas C. Savage Visitor Center give visitors a good background on the history and resources of the park and area. Trails also allow visitors to hike up to the historic Fort Snelling for a view of military life in the 1820s. This is a day-use only park; no camping is available.
Fort Snelling State Park is a perennial favorite among naturalists, geocachers, and birdwatchers, but also offers tons of seasonal activities as well. For summer months, there are picnic areas with shelters, playgrounds, volleyball areas, paved bike trails, and unpaved trails for hiking, and mountain biking.
For winter sporting fans, some of those same trails become byways for snowshoe-ing and cross-country skiing.
There is a golf course in the park as well, open from sunrise to sunset during golf season. Call (612) 726-6222 for a tee time.
In the spring, Fort Snelling even offers classes that teach visitors how to make maple syrup.
A day-use only state park, Fort Snelling's visitor center nature store is open from 8 a.m. to 4 p.m., with special summer hours for park admission. Call the visitor center at (612) 725-2724 for information.
More information on the park can be found at the Fort Snelling State Park website.