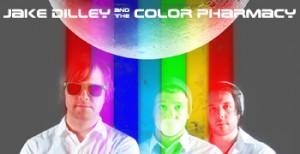 Marking another first on the blog, we're featuring a group of local musicians. But these aren't just any musicians, friends.
Jake Dilley & The Color Pharmacy are a unique band that brings a slight flavor of performance art to their show. The band ebbs and flows with dynamics ranging from a whisper to a raging tempest of chaotic noises, then back to a controlled groove, often within a single song.
The Color Pharmacy consists of Jake Dilley on guitar and lead vocals, Matt O'Brien on bass and occasional vocals, Jacob Quam on drums, percussion and vocals, and Andrew Thompson on guitars, keys and vocals. That's the live lineup, of course. Several guest musicians appear on their albums depending upon the song and its needs.
A Color Pharmacy show is an experience for the senses, with equal parts musical precision, dynamic expression, and visual wonder that captures the imagination. Sometimes performing in pharmaceutical smocks and sunglasses, these guys have a mastery over their instruments that is rare in a live performance.
Frontman Jake Dilley's vocals float ethereally over the swirling psychedelic pop-rock songs like clouds. Sometimes the fluffy blue-sky kind, sure. But more often, the ominous, foreboding, storm cloud, as he packs each song with as much ennui and pathos as hopefulness and exuberance. To hear for yourself, check out the Jake Dilley and The Color Pharmacy facebook page. Find the music player in the left column about halfway down and listen to selections from their new EP, Detour.
But to get the full effect, you have to see a live show. This Saturday you can catch the Color Pharmacy at Mayslacks in NE Minneapolis. Performing alongside them is The Farewell Circuit, another great local indie band. They will be performing a slightly stripped-down set, as they will be minus a couple of members that evening.
Earlier this spring, Jake Dilley & The Color Pharmacy embarked on a tour that took them all over the mid-section of the country, culminating in several performances at South by Southwest (SXSW) in Austin, Texas. The blogosphere was abuzz with acclaim for the band. Now they're back in Minnesota and you can catch them this Saturday. My advice: DO NOT MISS IT.
More info:
The Color Pharmacy on Facebook
The Color Pharmacy on MySpace