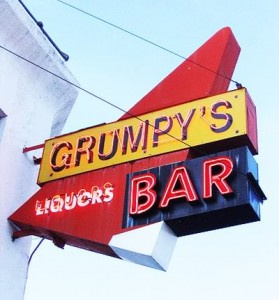 Grumpy's Bar & Grill has three metro locations, all offering different menus and specials. The Northeast Minneapolis location has recently come to our attention as having some unusual happy hour offerings.
There is no kitchen at the Northeast location, so you're pretty much limited to frozen pizzas and snacks (read: peanuts) for the most part. However, every Tuesday night (tomorrow, if you're keeping track), Grumpy's in Northeast offers Hot Dish Happy Hour starting at 5 p.m. At this time, some type of hot dish will be offered (changes from week to week) for only a buck a bowl until it's gone. This is, of course, on top of the usual Happy Hour specials–$1 off all tap beers, bottles and all cocktails.
Okay, I can hear you thinking, "So what? Everyone has a happy hour." Right?
True, but Grumpy's starts at 2 p.m., which very few happy hours do. Also, there are lots of other specials and fun things to do at Grumpy's NE, even after Happy Hour is over.
Wednesday nights they offer Trailer Park Trivia, with Berni, the Trailer Park Queen from 8:30 to 10:30 with $2 PBR tall boys. Get there early before it fills up.
Thursday afternoons, in addition to the usual weekday Happy Hour specials, Grumpy's NE also offers domestic bottles for 2 for $3 as a bonus special. Then at 6, stick around for Vino Vinyl. From 6 to 10 p.m., enjoy 2-for-1 glasses of wine. Also, bring a vinyl record in for the DJ to spin and get a free drink. They don't keep the record and you can't have Grey Goose. Those are the rules.
Fridays (again, on top of the usual Happy Hour specials), Grumpy's celebrates Firkin Friday. They feature a different Cask Conditioned beer from a different brewery, and offer free food with it from 4 to 7 p.m.
On Sundays you can enjoy select $2 16-oz tall boys from open to close (all day) and from 4 to 8 p.m. bottles of wine are half price.
The usual 2 to 6 p.m. Happy Hour starts up again on Monday, with the $1-off drinks. As a bonus, Grumpy's offers half priced bottles of wine again from 4 to 8 p.m. and from 5 to 9 p.m. all locally-brewed beers are half price, both tap and bottles. If that wasn't enough, there's also a Minnesota Music listening party featuring two hours of music from Minnesota artists from 7 to 9 p.m.
There's fun to be had every night of the week at Grumpy's in Northeast. Happy Hour and beyond.
For more information see the Grumpy's website.