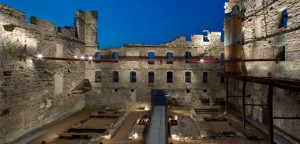 This one-of-a-kind museum was built into the ruins of what was formerly the world's largest flour mill. Located on the historic Mississippi Riverfront, visitors to the museum can learn about the rich and fascinating history of the river, the milling industry and Minneapolis.
The mill itself was completed in 1880. In 1991, it was nearly destroyed by fire. Soon after the ruins were cleaned up, plans began to take shape for what is currently Mill City Museum. Construction on the Museum began in 2001. Thomas Meyer, principal of Minneapolis architectural firm Meyer, Scherer & Rockcastle, Ltd. Meyer developed a concept that melded the historic integrity of the mill structures with modern components.
There's plenty to do at Mill City Museum. You can visit the baking lab, where you can see demonstrations and sample fresh bread, take a guided tour of the area, take a stroll through the courtyard, have a bite to eat at the cafe, or ride on the Flour Tower, an eight-story elevator ride that allows you to see the mill's history unfold as you go from floor to floor. These are just a few options, of course.
Mill City Museum offers school and youth group field trips, as well as scavenger hunts and more. Of course there are always volunteer opportunities available for the visitor who wants to get more involved.
Mill City Museum is located at 704 South 2nd Street in Minneapolis. Hours are Tuesday through Saturday 10 a.m. to 5 p.m. and Sunday noon to 5 p.m. It is also open Mondays in July and August from 10 a.m. to 5 p.m.
Museum members and children under five get in free. Otherwise admission is $10 for adults, $8 for seniors (65+), $8 for college students with a valid ID, and $5 for children ages 6-17.
For more information, see Mill City Museum's website.