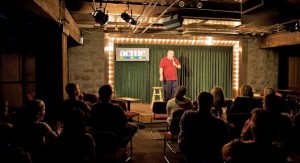 Before you know it, the weekend will be over and you'll be wondering what to do with yourself on Monday night. Right? Well, not anymore.
Acme Comedy Club's "Caught in the Act" Open Mic Night happens every Monday and is free and open to the public.
Acme is located in Minneapolis's North Loop neighborhood, on 1st Street and 8th Avenue North. See the map for a clearer idea.
Doors open at 7:30 and the show starts at 8 p.m., for 18+ only.
The club has its own restaurant and bar, Sticks Restaurant, which offers Dinner & Show packages for ticketed shows on other nights. To take a peek at other shows this month, check out the calendar. There are some very funny comedians coming this month, including Bobcat Goldthwait.
Just think. You could be one of the first to see a new rising star, or catch something really different and quirky. Or there's always the chance that you'll see a few people bomb. But therein lies the fun, friends! Like Forrest Gump says, "You never know what you're gonna get."
For more information about Acme Comedy Club, go to www.acmecomedycompany.com.